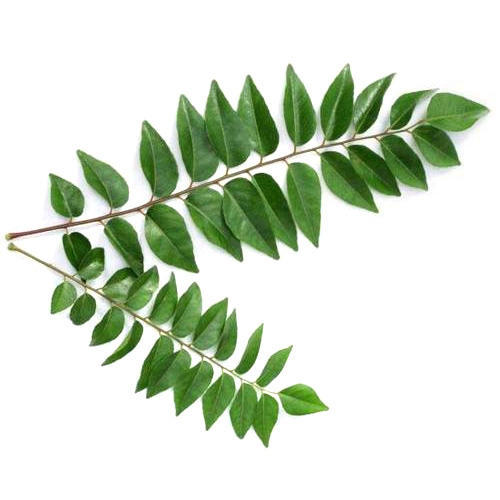 Curry leaves is a prominent ingredient for most of the Indian Dishes. It is known to increase the taste and the flavor of the food. However it's medicinal values are huge that Indians have been adding them to our dishes from ancient time.
No wonder Curry Leaves is called as "Sweet Neem". Curry Leaves have medicinal properties equal to Neem without the bitter taste.
Curry Leaves for Hair Growth
Pollution, high temperature and chemical treatments have affected the hair roots adversely. This may lead to weak hair or even hair stops growing due to weak roots. Hair may lose its shining or at worst may stop growing at all.
Curry leaves are known to strengthen the hair roots and promotes hair growth. Anti oxidants present in the Curry leaves fight damage caused by the pollution and the chemical treatments.
Repairs damage Hair Roots
Proteins and Beta Carotene present abundant in Curry Leaves. This aids to preventing hair fall and promotes hair growth.
Protein deficiency may also lead to hair fall. Protein present in Curry leaves nourishes the hair from and makes the hair soft and healthy.
Anti Oxidants present in the curry leaves fight the damage caused by the pollution and chemicals. It maintains the moisture required for hair scalp. It nourishes the weak hair roots and even dead hair roots rejuvenated.
How to use Curry Leaves
As a Hair Tonic
Curry leaves can be used to make a Hair Tonic which can promote Hair Growth and prevent hair fall.
Things Required:
One Cup of Curry Leaves
Pure Coconut Oil
How to Prepare:
Take some Coconut oil in a pan. Heat it in a moderate flame.
Add some curry leaves. Wait till the spatter stops.
Boil the mixture till it turns black.
Allow it to cool down.
Apply this hair oil directly in your scalp. Allow it to sit for one hour and gently wash your hair.
Do this twice a week. You will find difference within an month.
Why it works?
Everyone is aware that coconut oil is best for hair growth. When this is added with curry leaves, this hair tonic promotes hair growth and prevents hair fall.
As a Hair Mask
Things Required:
One cup of Curry Leaves
One cup of Curd
How to Prepare:
Grind the curry leaves to make it a paste.
Add some curd to the mixture and mix it well.
Apply this paste directly onto the scalp. Let it sit for one hour. Wash it off with mild shampoo.
Use this paste once in a week. You can find visible difference within a month.
Why it Works:
Scalp gets the medicinal values of the curry leaves when it is applied directly on the hair scalp. The Hair roots are triggered and promotes growth of new hair.
As a Tea
Yes you read it right! You can prepare Tea using Curry leaves. And its gonna nourish your hair from inside.
Things Required:
Few Curry Leaves
Few drops of Lemon Juice
How to Prepare:
Boil some water with curry leaves.
Once it boils, add lemon juice and some sugar.
Drink this tea as normal tea for a week. You can find visible difference in your hair and your body within 15 days!
Why does it work:
Curry Leaves nourish the hair from inside and makes your hair healthy and shining. Curry leaves aids in digestion process as well, so your will feel the difference within 15 days!
Eating Raw Leaves
Curry leaves can also be eaten raw. This provides the same benefits as taking it in tea.
Take some curry leaves in the morning and eat it raw. Chew it well, till it juices before swallowing.
It is best to eat Curry Leaves on empty stomach for maximum benefits.