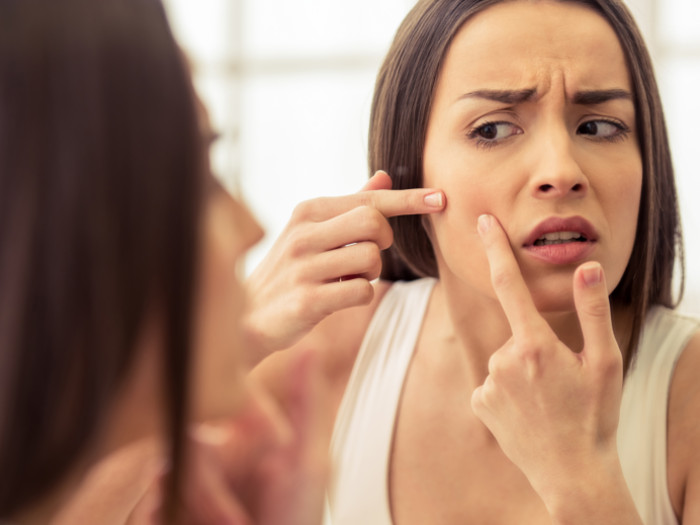 Acne problems are common during pregnancy. In face 2 out of 3 women who are pregnant face the Acne problems. In some cases the acne may be severe.
Acne that you develop during your pregnancy is much different than the acne you developed during your teen age. During pregnancy changes in the hormone levels, will lead to acne problems.
Causes for Acne during Pregnancy
The major reason for Acne during pregnancy are changes in the hormone levels in your body. This is especially happens in the first trimester of your pregnancy. In the first trimester your body undergoes most of the hormone changes, and will likely to develop acne. Mostly these acne will disappear during third trimester.
The higher level of hormones in the body will trigger the higher secretion of the natural oils by the skin. These oils will block the pores that are present in the skin and dirt starts accumulating in these pores, which in turns comes as Acne.
It's hard to predict who will get acne during pregnancy. If you have acne problem during pregnancy, wait till third trimester or till delivery, the acne problems will subside eventually.
Treatments for Acne
Acne is common during pregnancy. It will subside when the hormone levels are back to normal post pregnancy. The best thing is to avoid the chemical treatments or any medicines that are prescribed for acne.
The best and effective remedy for acne during pregnancy is natural and home remedies. Natural remedies have no side effects and you can be at ease that there is no problems for your child.
Using Neem and Thulasi (Holy Basil)
Things Required
One small cup of Neem Leaves
One small cup of Thulasi Leaves (Holy Basil)
One spoon of Sandalwood Powder
One spoon of Rose Water (You can use Cucumber Juice, if you don't have rose water)
How to
Blend the Neem and Thulasi Leaves into a paste.
Add the Sandalwood powder and rose water in the mixture.
Mix well.
Apply this mixture evenly on your face and neck. Let it dry for 20 minutes and wash thoroughly with cold water.
Repeat this thrice a week, before shower.
Why it works
The anti bacterial property of Neem and thulasi will remove any microbes that are present in the acne. The cleansing property of the thulasi will gently cleanse your skin and removes the dirt from the pores.
Sandalwood powder and rose water nourishes your skin and promotes even and healthy skin.
---