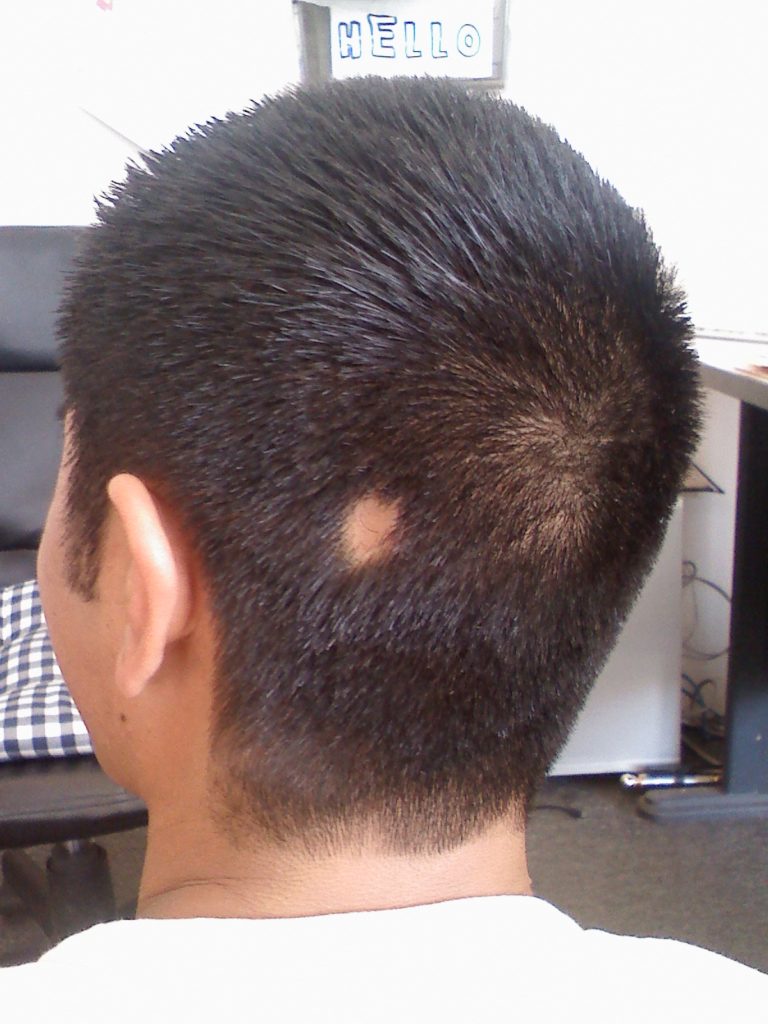 Alopecia Areata (Tamil: Puzhuvettu) is a condition in which a patch of an area in hair where there will not be any hair. Since it looks like an insect problem, it called as Puzhuvettu in Tamil (Puzhu means Insect in Tamil).
This condition is due to lack of resistance for the root of the hair. This condition usually occurs in the hair present in head but can arise in beard and mustache as well.
There are several causes of this condition. Allergic reactions, eating stale food, Stress, tension, dust, pollution, steroid tablets are significant factors for this condition. There are few other causes for this condition which are known to affect few.
There are several natural remedies available for treating this condition which are far more effective than the artificial treatments. In this post we will see few natural remedies.
By Using Mustard Oil
Things Required:
How To:
Apply mustard oil regularly on the affected area.
Regular application of mustard oil is known to give a significant improvement to this condition. It would be more efficient if the oil was applied overnight and washed off with plain water next day.
Why it Works:
Mustard oil stimulates the hair growth by increasing the oxygen supply to the hair roots and also provides essential nutrients to the hair.
Mustard oil is rich in proteins and omega3 fatty acids which will nourish your hair from within and helps in hair growth. The antibacterial and antifungal property prevent hair loss and stimulates hair growth.
By Using White Karisalankanni (Bhringraj)
Things Required:
White Karisalankanni juice – One small cup
Sesame oil – One small cup
How to:
Take Karisalankanni Juice in a bowl.
Add oil to the bowl.
Keep it in low flame and stir frequently till it becomes paste.
Apply this paste directly in the affected areas. Wash it off with plain water.
Do this thrice a week. Continue this for 2 months and you can see that hair is growing in the affected area.
Why it works:
Karisalankanni considered as an sacred herb in south India. The anti bacterial and anti fungal property of Karisalankanni is known to fight off any microbes present in the scalp and hair. These properties help in hair growth and promote healthy hair.
By Using Karbogi Powder and Avalgujadi Lepam
Things Required:
Karbogi Powder – One Spoon
Avalgujadi Lepam – One Spoon
Fermented Curd/Vinegar/Lemon Juice – One Spoon
How to:
Take Karbogi Powder in a bowl.
Add Avalgujadi Lepam in the bowl.
Add Fermented Curd/Vinegar/Lemon Juice to the bowl.
Mix it well.
Apply this directly on your scalp and hair before going to bed. Wash it off thoroughly with shikakai next day morning.
Continue this for two months. You can see the difference and hairs will start to grow in the affected area.
Why it works:
Avalgujadi Lepam is an ayurvedic medicine that is mostly used in the treatment of Lecucoderma. It is also effective against Alopecia Areata and helps in growing of hair in the affected area of the scalp.
By Arali (Ghanera)
Things Required:
Arali(Ghanera) Plant Stem
How to:
Take the Plant stem.
Put a small cut in the stem of the plant.
A white milk will ooze from the plant. Collect it in a bowl.
Apply this lightly on the affected area.
This will help in regaining the hair in the affected parts of the scalp.
Continue this once in a week or once in two weeks. You can find visible difference in your hair.
Note: The white milk oozing from the plant is toxic in nature. Care should be taken not to consume it internally or contact with sensitive parts of the body.
By Using Shallots
Things Required:
How to:
Take the shallots in a bowl.
Smash it into a paste.
Apply this paste to the hair roots.
Massage it gently in the hair roots for 20 minutes.
After massage let it sit in your hair for 30 minutes. Wash it off thoroughly with plain water.
Continue this for twice a week. You can feel the difference within few months.
By Sunlight
Sunlight is an essential factor for getting soft and healthy hair. Though it is not advisable to stand under the hot sun, we can stand under the rising sun.