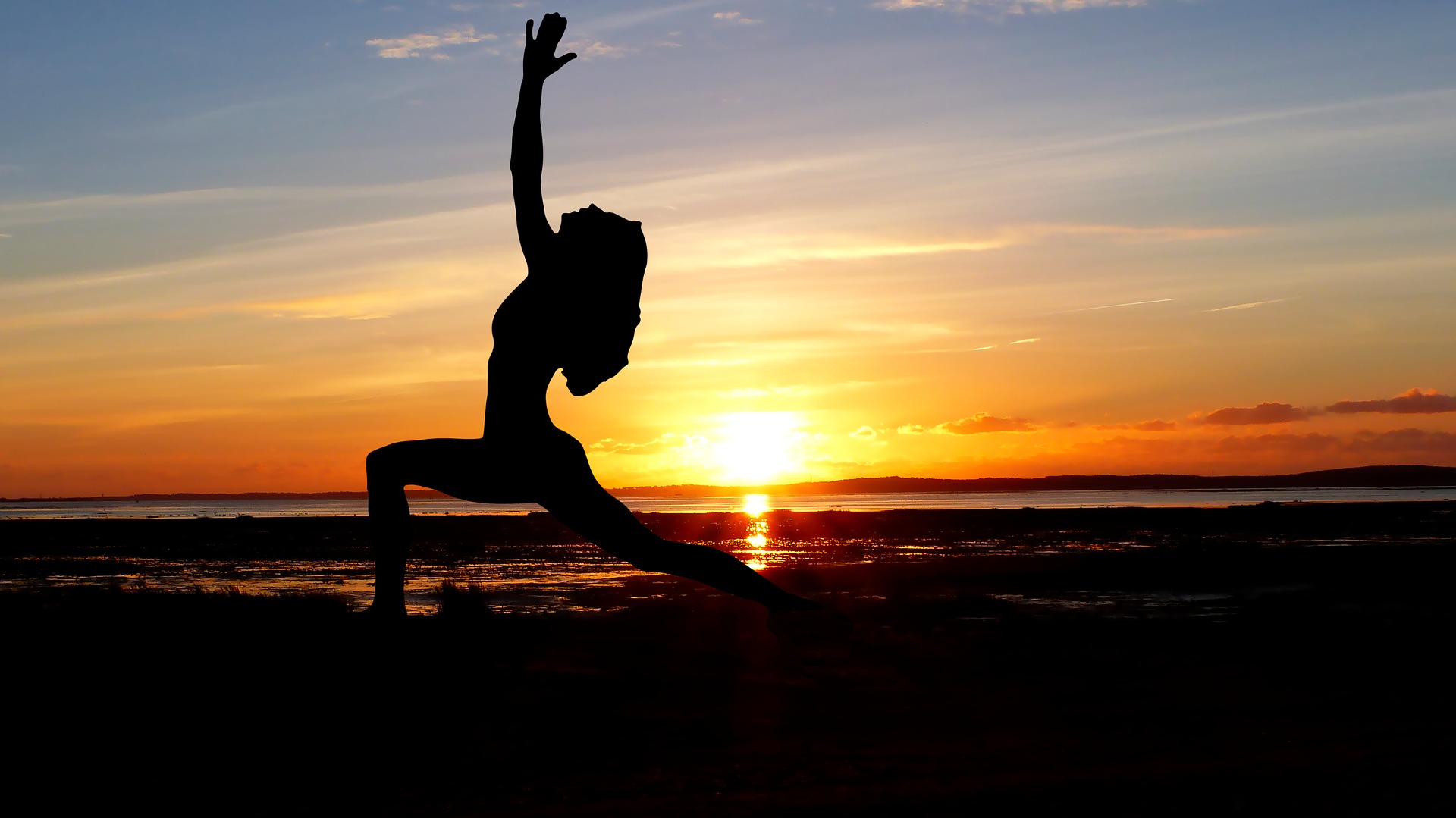 Surya Namaskar (Tamil : Surya Namaskaram) or the Sun Salutation is an ancient technique of paying respect or gratitude to Sun that is source of all forms of life on Earth or on all planets. Symbolically, Sun becomes the source of our energy as well.
Surya Namaskar or Sun Salutation is a sequence of 12 powerful Yogic poses. Besides being a great cardiovascular workout, Surya Namaskar is also known to have an immensely positive impact on the body and mind.
The Surya Namaskar are a complete body workout. It takes around 3-5 minutes for one complete set. During 12 sets you would have completed 288 powerful Yogi asanas. These asanas have tremendous impact on your body, mind and soul.
Why should you perform Surya Namaskar?
The Solar plexus (located behind the navel, which is the center point of the human body), also known as the second brain is said to be associated with the Sun. This chakra associated itself with your gut feeling and intuition.
Hence the regular practice of this techniques enhances the Solar Plexus, which increases one's creativity and intuition abilities. Also, doing Surya Namaskar while paying conscious attention to every bodily movement can push your intuitive powers into full-gear.
When its best to perform Surya Namaskar?
The best time for performing Surya Namaskar is when the sun is rising. You must make sure that your stomach and bowels are empty.
Some may argue that it can be performed when the sun sets. Surya Namaskar can be done on any time of day, but it is best to perform early morning to reap maximum benefits.
Mantras during Surya Namaskar
While it is not necessary to chant mantras when performing Surya Namaskar, but chanting mantra increases it benefits multi fold. Each of the 12 poses have a specific mantra which can be chanted mentally or even audibly during each pose.
provides with specific mantras to be chant during each step and their significance.
Steps to perform Surya Namaskar
Surya Namaskar consists of 12 Powerful Yogic Poses done sequentially. We will go through each pose.
Step 1: Pranamasana (Prayer pose)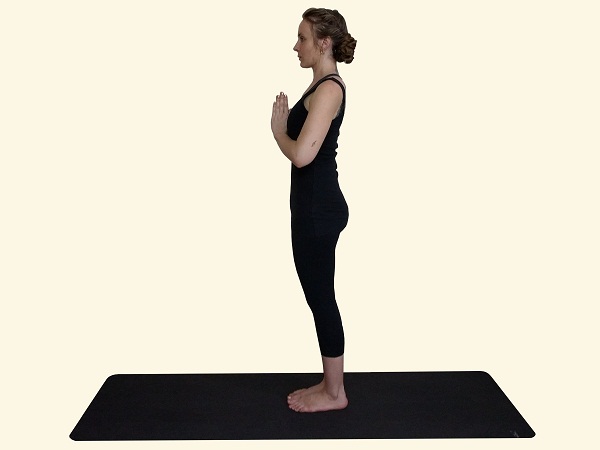 Begin with your feet together. Stand at edge of your mat and balance your weight equally on both the legs. Relax your hands, legs and shoulders. Bring your mind's focus to your body as you prepare to move through the poses.
As you breathe in, lift both arms up from the sides, and as you exhale, bring your palms together in front of the chest in prayer position.
Step 2: Hastauttanasana (Raised arms pose)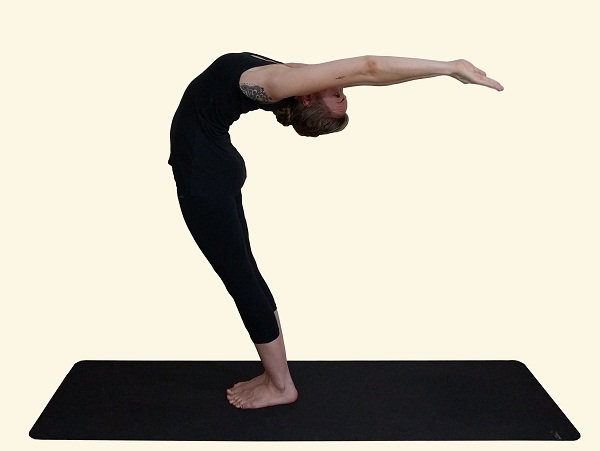 Inhaling deeply, stretch both your arms backwards keeping your biceps near to ear. Try to stretch your entire body from toes to fingers.
This is stretching pose, try to take your fingers as backward as possible. Your eyes should be fixed on your fingers.
You could move your hips a forward to help your fingers on reaching as backwards as you can.
Step 3: Hastapadasana (Standing forward bend)
Breathing out, bend forward from your waist. Exhale completely while you try to touch the ground with your hands. Your knees should be straight and should not be bend position.
It's okay, if you are unable to touch your ground with your hands. But you should try to bend as much as possible.
Tips to touch ground with your hands
Bend you knee a little bit, so that you can touch ground.
Now with little effort, try to straighten your knees, until you are able to touch the ground.
Keep your hands in this position until we finish one complete sequence.
Step 4: Ashwa Sanchalanasana (Equestrian pose)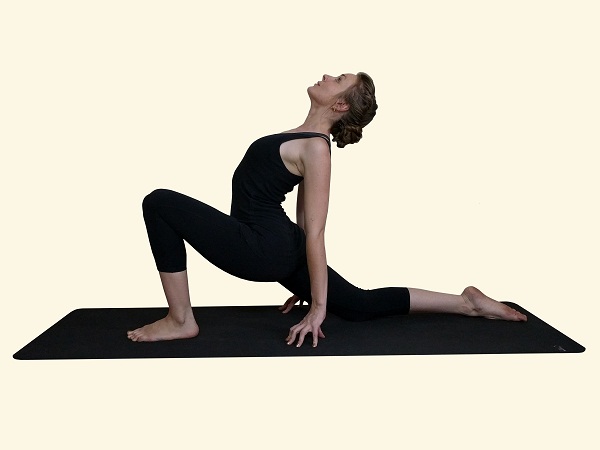 Breathing in, push your right leg backward as far as possible. Then bring your right knee to the floor and look up.
Ensure that you haven't moved your hands from the position. Also if possible maintain your left leg in between your hands.
Step 5: Dandasana (Stick pose)
As you inhale, bring your left leg backwards. Your body should be in a straight line like a stick.
Your arms should be erect and perpendicular to the floor. Your elbows should not be bend or your body should not be in bend positions.
Step 6: Ashtanga Namaskara (Salute with eight parts or points)
Gradually bring your knees down and exhale. Take the hips back slightly, slide forward, rest your chest and chin on the floor. Elevate your posterior a little bit.
The two hands, two feet, two knees, chest and chin (eight parts of the body) should touch the floor.
Step 7: Bhujangasana (Cobra pose)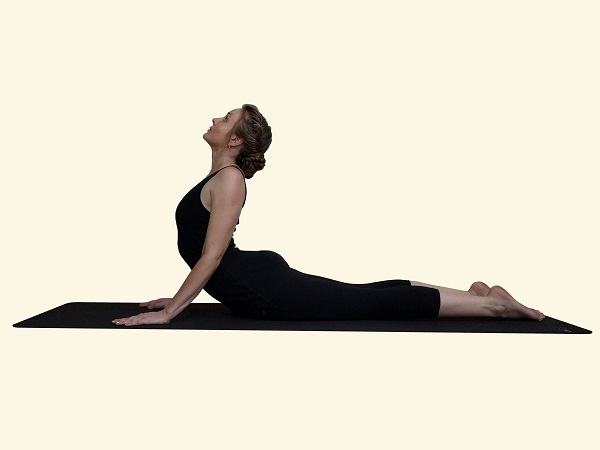 Slide forward and raise the chest up into the Cobra pose. You may keep your elbows bent in this pose with the shoulders away from the ears. Look up at the ceiling.
As you inhale, make a gentle effort to push the chest forward. As you exhale, make a gentle effort to push the navel down. Tuck the toes under. Ensure you're stretching just as much as you can and not forcing your body.
Step 8: Parvatasana (Mountain pose )
Breath out and lift your hips as well as your tail bone up. Put your chest downwards to create an inverted V pose.
Keep your heels on the ground as possible. Make a moderate effort to lift your tailbone up. Gradually go deeper into the stretch.
Step 9: Ashwa Sanchalanasana (Equestrian pose)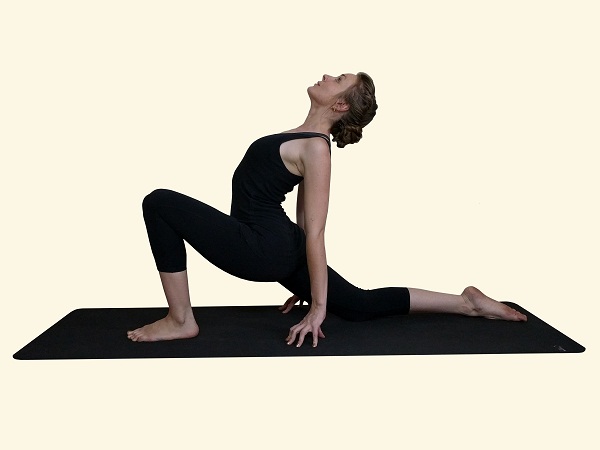 Breathing in, bring the right foot forward in between the two hands. The left knee goes down on the floor. Press the hips down and look up.
Step 10: Hastapadasana (Standing forward bend)
Breathing out, bring the left foot forward. Keep the palms on the floor. You may bend the knees, if necessary.
Step 11: Hastauttanasana (Raised arms pose)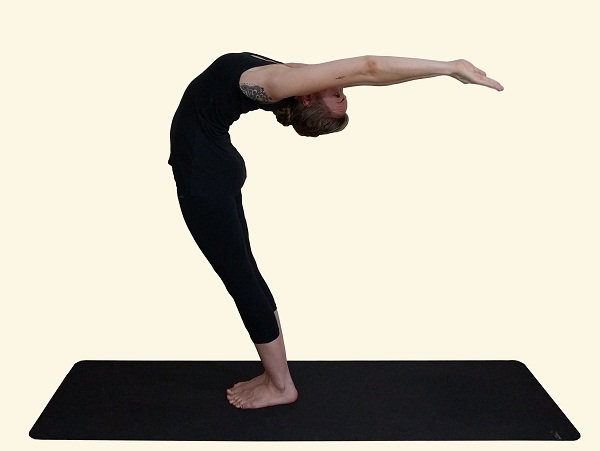 Breathing in, roll the spine up. Raise the hands up and bend backward a little bit, pushing the hips slightly outward.
Step 12: Tadasana (Mountain pose)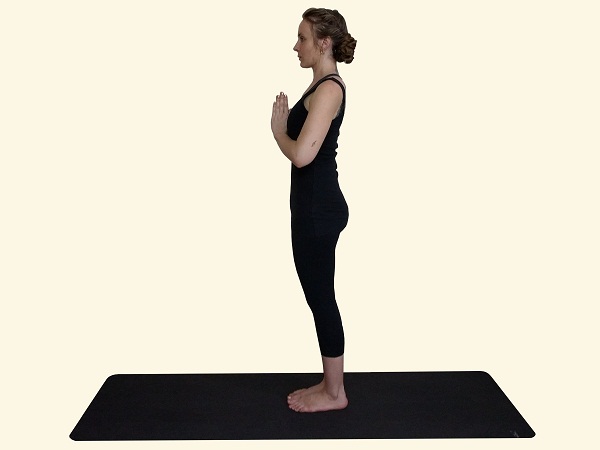 As you exhale, first straighten the body, then bring the arms down. Relax in this position and observe the sensations in your body.
This completes one round of Surya Namaskar. Now continue the same steps with left leg in Step 4 and right leg in Step 9. Once you complete two rounds of Surya Namaskar, that completes a single set of Surya Namaskar.
Video explanation of Surya Namaskar
Benefits of Surya Namaskar
Check Benefits of Surya Namaskar for detailed explanation of benefits for each pose.
Improves Blood circulation of the Body.
Your Mantra to Weight Loss.
Promotes a regular menstrual Cycle.
Benefits your Skin and Hair.
Anti-Anxiety and Calming Properties.
Maintains the Cardio-Vascular Health.
Stimulates the nervous System.
Helps in stretching, flexing and toning the muscles.
Strengthens the Immune system.
Enhances the Cognitive Functions and strengthens the body.
Balances your dosha.
Good maintenance of Overall Health.